Buying a Car
Don't just buy a car, get a good deal for your money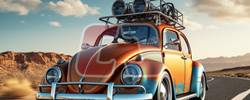 BUYER'S GUIDE
9 points to trouble free buying
Point 1 - How much can you afford to pay?
Whenever you are looking to buy a car make sure you have a limit and that you stick to it. More often than not eyes may be bigger than your wallet. Make a list of desirable features and what you want from it. For example; how many seats do you need? Do you need an estate car? Do you have a family? What type of Fuel would you like?
Point 2 - Research and investigate - Where can you buy the car and what is right for you? How much should you pay?
The Internet is an invaluable source of information and there are many online reviews and buyers guides. Your local Newsagent or magazine retailer is a wonderful source for Car magazines offering reviews and practical suggestions. Make sure you keep an eye out for manufacturers' recalls, and make a note of when the cam belt needs changing as this is an expensive repair that must be done when the manufacturer recommends.
Point 3 - Your Friends, talk to them learn from their mistakes and experience
The best information will come from those who are able to offer impartial advice and an unbiased perspective.
Point 4 - The right price for the right car
If is vitally important that you buy the right car for you in terms of mileage and service history. A car with a full service history is likely to have been well maintained and as such should allow for trouble free motoring.
Point 5 - Arranging a Car loan or Car finance
There are a multitude of options when it comes to financing your new vehicle. Make sure you choose the one that is right for you. Try and choose up to two options and apply, multiple options can adversely affect your credit rating. Remember to always stick to your budget, and make sure you can afford the payments.
Point 6 - The Trial Run
Always take the car for a test drive. Make sure you test drive the car for at least 20 minutes, so you can be sure you are comfortable with it. Take it on to a motorway or dual carriage way so you can open up fully. See how much it smokes when you use the throttle, all cars will smoke a little bit but it should not smoke after 2-3 seconds of going up through the gears, but if you get to 5th gear and it's still smoking then you could have problems. Before the car is moved for the test drive open the bonnet and check the engine is cold, always test drive the car from cold! If when the car is first started it takes 2-3 turns of the key to start it could need a service and or parts changing. When you sit in it make you test all the buttons, electric windows and radio.
Point 7 - The Warranty
Always look at what the warranty doesn't cover, as some warranties aren't worth the paper they are written on. The small print can be the most revealing and so do not allow yourself to be rushed. Take your time and make sure you are 100% happy. Remember, there is no such thing as a silly question. If the warranty is a good one it should clearly state what is not covered. Always try and get a better warranty if you are buying a second hand car from a dealer. They normally offer you the bronze warranty try and get at least silver as they normally go up to platinum. But remember that even platinum will not cover every single thing on the car. If the dealer is confident in the car he should give you a 6 month warranty.
Point 8 - Written documentation = Evidence
Always get everything you can in writing, whatever has been described between you and the seller, ask them to document it. If they have agreed to put 6 months tax on the car for when you pick it up, ask them to put this in writing, if they agree to fix and damage i.e. scruffs, dents, scratches etc.... ask them to put it in writing. Verbal agreements do not stand up in court a signed written document will.
Point 9 - The hand over
Most modern cars have central locking which uses an electronic key they can cost hundreds of pounds to replace. So make sure you get two keys and keep one in a safe place. Also, check the car very carefully for any new damage and most importantly check all the electrics.