MOT
What is an MOT? MOT stands for "Ministry of Transport", a term that refers to an annual test conducted on vehicles to ensure they meet the roadworthiness standards and environmental criteria set forth by the UK government. This guide aims to provide an in-depth look at what an MOT is, why it's important, and when you need to have one done.
Why Choose Chorlton Cars for your MOT?
Budget effectively for your car running costs by considering all the factors which affect running and

As a well established business we have been providing car services, repairs and completing MOT's since 1971. Our customers return to us year after year for their MOT because they know we care about the service we provide. If repairs are required we discuss the options with you and provide a solution which keep you safe and your car legal.
Quality MOT with no Re-Test Fee - £40.00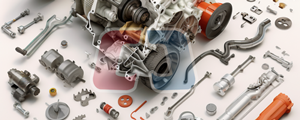 We understand that taking your car for an MOT can be a chore and inconvenient at the best of times. At Chorlton Cars we offer a pick up and drop off service so that you can get on with your life while we ensure that your vehicle receives a thorough MOT.
Why do I need an MOT?
It is every car owners legal and moral responsibility to ensure that their car receives an annual MOT (for vehicles older than 3 years). The MOT Test ensures that your car is roadworthy and safe for you to drive without potentially causing injury to you or other road users.
The MOT test has matured and become more comprehensive over the years with recent changes including measures to protect the environment by ensuring that your car meets certain emission policies.
Whilst some may feel that an MOT is an unnecessary expense, it does ensure that your vehicle is safe for you, your family and friends to drive in. This is the most important reason for the MOT.
What the MOT test includes
The MOT looks at some important items on your car to see that they meet key legal requirements at the time of test.
The body and vehicle structure Is free from excessive corrosion or damage in specific areas and there are no sharp edges likely to cause injury.
The fuel System Has no leaks and the fuel cap fastens and seals securely. The fuel cap will need to be opened so be sure the key is available.
The exhaust emissions The vehicle meets the requirements for exhaust emissions, dependant on the age and fuel type of the vehicle.
The exhaust system Is secure, complete, without serious leaks and silences effectively.
The seat belts All belts installed are checked for type, condition, operation and security. All compulsory seat belts must be in place.
The seats The front seats are secure. Front and rear backseats can be secured in the upright position.
Components to be inspected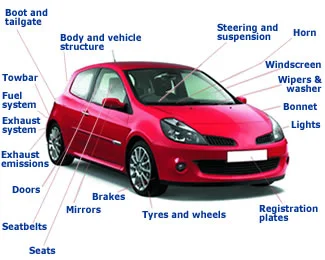 The doors Latch securely in closed position. Front doors should open from inside and outside the vehicle. Rear doors may need to be opened to gain access to testable items.
The mirrors The minimum numbers are on the vehicle, their condition and security.
Load security Boot or tailgate can be secured in the closed position.
The brakes Their condition, operation and performance (efficiency test). Note the removal of the road wheels is not part of the test.
The tyres and wheels Their condition, security, size, type and tread depth. Spare tyres are not inspected.
The registration plates Their condition, security, characters correctly formed and spaced.
The lights Their condition, operation and security. Headlamps for aim.
The bonnet Securely latches in the closed position.
The wipers and washers Operate to give the driver a clear view ahead.
The windscreen Its condition and the driver's view of the road.
The horn Operates correctly and is of a suitable type.
The steering and suspension Are of a satisfactory condition and operation.
The vehicle identification number (VIN) Is on vehicles first used on or after 1 August 1980. Not more than one different VIN is displayed except on multistage build vehicles.
MY car needs an MOT what should I do?
If you don't get an MOT for a vehicle that requires one, you could be fined up to £1,000. It is also likely that your vehicle insurance will be invalidated.
Don't panic! Give us a call and we can arrange a convenient time to conduct the MOT test on your car. We can even arrange to pick you up and drop you off, our friendly staff are here to help.
How Much does an MOT Cost?
Our MOT Price is £40.00 with no re-test fee if your car fails its initial MOT test